Video Artist Talk
Sergio de la Torre & Chris Treggiari
Sanctuary City Project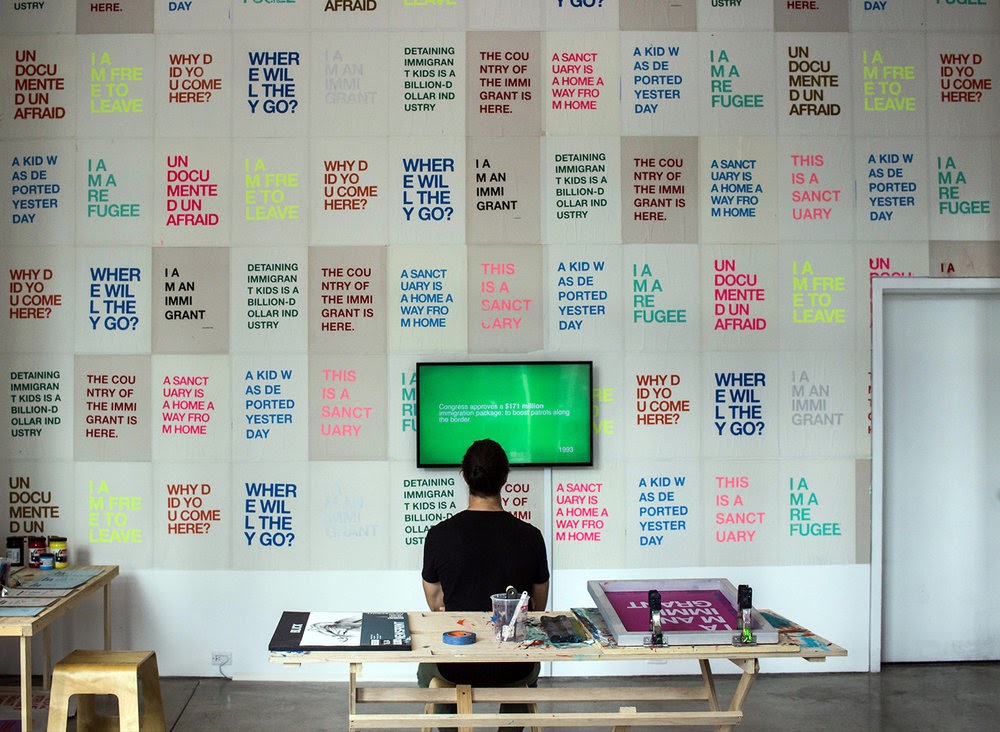 Video produced by Youth Public Media
Artists Sergio De La Torre and Chris Treggiari have been printing posters to raise awareness about what a sanctuary city is and how immigration policies affect communities. Watch De La Torre's daughter, Mila De La Torre, interview him about his art and a project called the "Sanctuary Print Shop."

The project kicked off in 2009, when De La Torre and Treggiari interviewed immigrants and researched immigration policy, →creating an installation at a gallery in San Francisco's Mission District. In 2017, the project morphed into the →"Sanctuary Print Shop" — a three-month poster printing effort at San Francisco's Yerba Buena Center for the Arts. Audience members responded to immigration-related questions De La Torre and Treggiari printed on posters, and some of the audience's answers themselves became phrases for posters. Since then, De La Torre and Treggiari have held more than a dozen poster-printing events around California and beyond. And the artists have expanded the scope of the project to include full-blown billboards that they've erected in San Francisco, displaying phrases first seen on the posters, including "This is a sanctuary" and "The country of the immigrant is here."
The Sanctuary Print Shop is a functioning print shop that also serves as a community space. It aims to raise awareness about immigration policies and how they impact our communities. Through sharing visual infographics, silkscreen community workshops, a timeline, and other participatory activities, The Sanctuary Print Shop educates visitors on the history of the sanctuary ordinance and serves as a resource center and catalyst for public engagement in the movement to uphold immigrants' rights.

→Chris Treggiari strives to investigate how art can enter the public realm in a way that can connect wide ranges of people and neighborhoods in a variety of communities.  Chris has shown internationally including the Venice Biennale 2012 American Pavilion as well as nationally at SFMOMA, the Torrance Art Museum, the Getty Museum, Berkeley Art Museum, Yerba Buena Center for the Arts, the San Jose Museum of Art, The Oakland Museum of California, and the Museum of Contemporary Art San Diego. Chris is currently a teaching artist-in-residence at the Center for Art and Public Life at the California College of the Arts since 2013.

Sergio De La Torre has worked with and documented the multiple ways in which citizens reinvent themselves in the city they inhabit as well as site-specific strategies they deploy to move in and out of modernity. These works have appeared in the 10th Istanbul Biennial; Bienal Barro de America; Cleveland Performance Art Festival; Atelier Frankfurt; Centro Cultural Tijuana; YBCA; TRIBECA Film Festival; and El Festival Internacional de Cine de Morelia. Sergio De La Torre is an Associate Professor at the University of San Francisco Art and Architecture Department.


← Back to home page
©2020, California College of the Arts, unless otherwise noted
Identity & Web Design by Howsem Huang